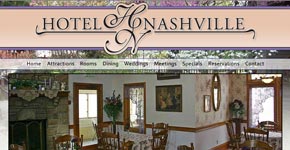 Client: Hotel Nashville
Launched: 09/25/2007
Site: www.hotelnashville.com
Hotel Nashville is a highly-successful lodging establishment in Nashville, Indiana. The new site created by Harris/George is specifically designed to showcase the beautiful and spacious facilities.

Is your web site worth the click?
If you have a web site now, does it accurately convey who you are and what you do? First impressions are important. If your business or organization is wanting to develop an attractive and functional site that will make a great impression and improve your image, let's talk. If you don't have a web site already, it's time to get in the game! Having a dynamic web presence worth the click can help increase your online and offline sales, enhance your customer service, and help you stay in better communication with your clients.
How you want your web site to look is important, but what you want it to do is equally important. Like anything else, the more features a site requires the more programming and site development is necessary. That is why we provide a no-fee consultation to discuss why you want a web site, who your intended audience is and what your site needs to do. Based on your answers we create a site proposal with recommendations and fees, so you can customize a plan based on your personal preferences and budget.
Working together and communicating closely throughout the process, we can deliver your site and have it worth the click at a mutually agreed upon time. Call or email today and let's get rolling.